Chapter One – Ultra Rosa's Bounty Hunter Inc.
Professional Bounty Hunter, Ultra Rosa, takes on one more mission to a supposedly deserted moon. In the company of her assistant, Dii, they investigate a lead on their next target but it wont be an easy one....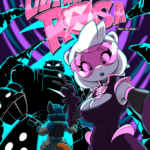 Chapter Two – Bun Trouble.
MaryX, The youngest daughter of the recently detained Bunny Emperor, sets off without the aid of her brothers to rescue their father. With coordinates set and a rumored Ultra Merc by their side, MaryX and crew execute their rescue plan.